With A Little Help From His Friends
Danbro Distributors has their own staff helical hero in Nick Gill, equipment, training, and site support specialist.  Nick has endeared himself to customers by providing support on their projects, as Steve Graven of Cornerstone Masonry Group recently learned.  Steve had a job to complete with a tight window and was having issues with his torque indicator.
Normally reliable Marian Digital Torque Indicator was not the culprit.  The problem at hand was that the pressure transducers were placed too far away from the drivehead to effectively read the torque.  Nick made the necessary adjustment and Cornerstone Masonry was able to start the project the same morning.
The senior citizen apartment building in Seaside Heights, NJ, was originally designed as a slab-on-grade foundation.  However, the geotechnical investigation by Underwood Engineering revealed unsuitable surface soils in the sandy environment, requiring deep foundation elements.  The owner/developer wanted to avoid driving wood piles because of the proximity to his neighbors.  Limited access also made helicals a more attractive alternative.  Steve Gencorelli of Gencorelli Engineering LLC designed the foundation to accommodate 40 kips load in compression and 10 kips in tension.  The loose sand also required 2.7 kips in lateral for each pile.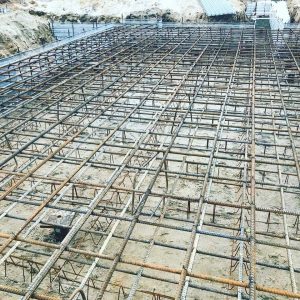 Danbro's relationship with the IDEAL Group also factored into the project.  Money was at issue, (isn't it always?), as a deep foundation was not originally envisioned.  IDEAL's production flexibility was up to the challenge.  They responded in short order by producing a special order 12" 14" 16" 3.5" lead section, enabling Cornerstone Masonry to get capacity between 20' and 30'.  This saved money on the depth of the piles, while the high capacity achieved with the IDEAL Schedule 40 pipe pile was considerably less expensive than similar piles requiring Schedule 80 pipe to achieve a similar load.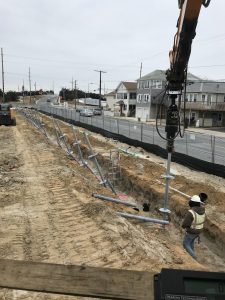 Danbro's support, Gencorelli's design, and IDEAL's production flexibility helped Steve Graven of Cornerstone Masonry Group overcome site conditions and complete the project on time and on budget.