According to various sources, Greater Philadelphia ranks among the top five most congested metropolitan traffic areas in the country. The New York Metro area is among the top five also. According to a recently published report by NPR, in New Jersey (which borders both cities), their drivers average 48 hours a year stuck in traffic, the most of any state. It is small wonder that NJDOT (NJ Department of Transportation) has targeted certain trouble spots to try to ease the congestion.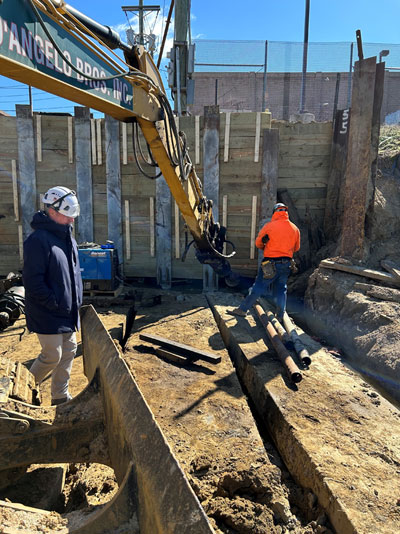 One of the most congested roadways in New Jersey, with a high rate of crashes, is the Route 295 interchange in Bellmawr, Camden County, New Jersey (bordering Philadelphia) where I-295, Route 42, and Route I-676 meet. The current layout does not provide a direct connection for I-295 through-traffic. The existing interchange requires motorists to reduce speed in both directions of I-295 (North to South); safely negotiate exit ramps with 35 mph speed limits; then merge onto Route 42 (East to West); and, almost immediately, exit again, picking up I-295 again in whichever direction you're traveling. It's convoluted to describe; it's even more convoluted to drive. I've navigated this intersection all my life. It's a mess.
Direct Connect is a $900 million project with the core intent to straighten out Route 295 and alleviate the very confusing interchange where I-295, Route 42, and Route I-676 meet. In addition to State funding, Missing Moves, a $180 million federally funded project, was tapped to complete the work.
This multi-year, three phase project was designed to improve safety and reduce traffic congestion at this very busy intersection. Danbro has supplied material and technical assistance for the installation of helical tiebacks on all three phases of Direct Connect. Beginning with Phase I in 2017 (Conti Enterprises), through Phase II (South State), to the present Phase III (South State), the viability of helical anchors for earth retention on highways and bridges is once again confirmed. Click to view Phase I case history
Site conditions, such as access, mobilization, and no-vibration, are the usual suspects on many helical projects. They were not serious obstacles for the On/Off ramps requiring tiebacks. However, one constant in virtually all helical installations is soil conditions. This was the case here. Variable soil conditions at this site called for helical anchors to replace grouted tendons, which were originally proposed, in locations where the tiebacks were going deeper. Helical tiebacks are end-bearing, not friction piles, and do not require grout. A trailer extension with twin 14″ helices followed a 10″ 12″ 14″ 14″ lead to achieve capacity between 35 and 70 feet. In addition, helical anchors are easier to install and test. They perform well when weak soils require deeper penetration. In some areas, two tiers of helical tiebacks were required and, in other locations, as many as three tiers were required. In all, fifteen IDEAL 4.5″ Pipe Piles (.290 Wall) were installed by South State in Phase III. Click here to access South State Direct Connect Phase III Web Page
No matter how long you've been in this business, you can always learn something new. Conti Enterprises installed 1 ¾" square shaft in Phase I on I-295 a few years ago and they tested well. Later, in Phase II and III with South State, we switched to 3 ½" and then 4 ½" round shaft pipe to see how they tested and discovered that there was even less creep with the pipe anchors than with the square shaft. The situations that favor a helical anchoring system on these and similar projects involve ground conditions, equipment, and testing. The soft clays and fill encountered at this multi-highway intersection site were, in some instances, more conducive to helicals than grouted anchors. Helical anchors for many Highway and Heavy projects continue to prove to be a viable alternative to traditional grouted tendons, under certain site conditions, simplifying the installation and testing, while saving time and money. Click here to access Danbro Direct Connect Phase III Case Study