Main Street America, a well-known mainstay in many communities' efforts to revitalize their historic commercial districts, is a subsidiary of the National Trust for Historic Preservation.  According to its website, it is "a network of more than 1,600 neighborhoods and communities, rural and urban, who share a commitment to place and to building stronger communities through preservation-based economic development."   Click here for Main Street
Collingswood, NJ has endorsed the Main Street concept for historic preservation in their scenic and historic Haddon Avenue downtown area.  Originally inhabited by Lenni Lenape Native Americans, it was eventually settled by Quakers in the late 17th century. Prominent among its historic homes is the Stokes-Lees mansion, dating back to 1707.  Of further note, the American poet Walt Whitman is buried in Collingswood.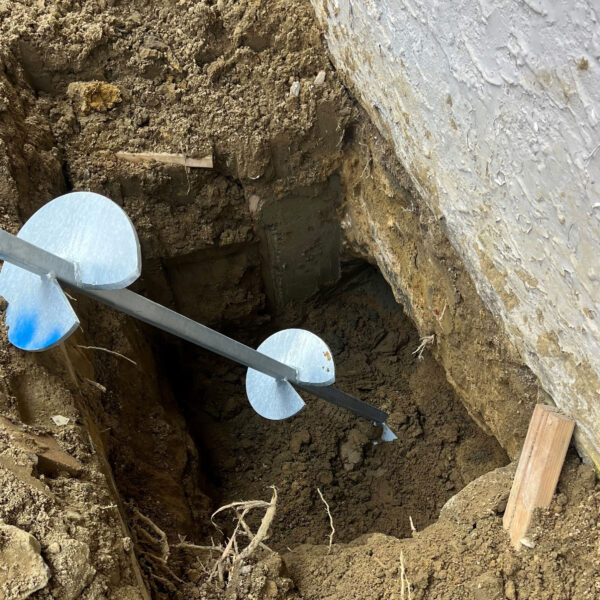 Helicals have a long history in historic preservation projects.  While other trades have a proud tradition of the visually arresting, above grade building restoration efforts, humble helicals do their work underground, supporting a structure which otherwise would have had to be demolished to make way for a newer, structurally sound building. Although the foundation is not visible, its viability determines whether the structure can be stabilized to enable the rest of the work to go forward.  Historic preservation for buildings begins with the foundation.  Older structures that don't conform to the modern code are often grandfathered and can also be saved. This was the case for several boathouses on Long Island and in New Jersey.
Click here for Cove Landing Case History
Click here for Kellogg Residence Case History
In Collingswood, a recent helical underpinning project on a mixed use building had to conform to Main Street standards. Further complicating matters, the work needed to preserve the original facade, while also allowing the building's residents to occupy the apartment above, as well as provide access and egress for customers of the business on the street level. Helical projects can be neighbor friendly and make it easier to retrofit or refurbish buildings to accommodate a changing urban environment.
Click here for Wilbur Chocolate Case History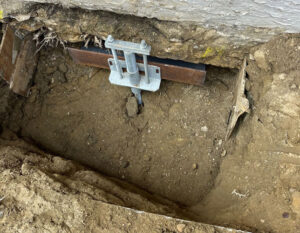 Underpinning projects in urban areas with older buildings with suspect foundations create unique challenges. This was the case here as the excavation revealed a stone footer of questionable structural integrity.  Old stone or rubble foundations are often encountered in older buildings and care must be taken to ensure that the underpinning bracket connection to the footer is secure. Ten 1 ½" IDEAL square shaft pilings were driven to 40 feet where they achieved the 30-ton capacity.  Longtime Danbro installer Vaspoli Builders' go-to response in situations like this was to install angle iron as a lintel underneath the existing footer to preserve the structural integrity of the foundation. Then, the patented IDEAL True Force underpinning bracket was installed under the angle iron. Pine Valley, the engineer of record, exercised further caution and accepted Vaspoli's suggestion to pour concrete around the bracket/footer connection points to fill gaps and further reinforce the foundation.
Click here for Main Street America Case History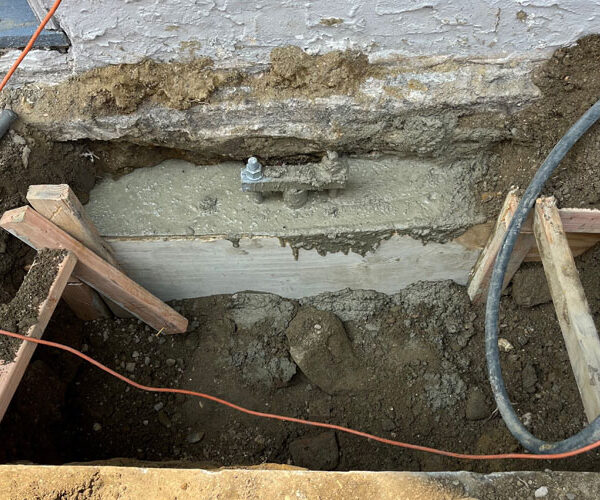 In addition to mitigating a myriad of site issues, helical installations can help save buildings that are "out of code", retrofitted for new use, or of historical significance.  It does take a little ingenuity, some patience, and a lot of know-how, but as the case histories above illustrate, Danbro Installers continue to make history while preserving it.