The Holiday Helical Miracle
By Caitlin Haffert
(…with apologies to Clement Clarke Moore)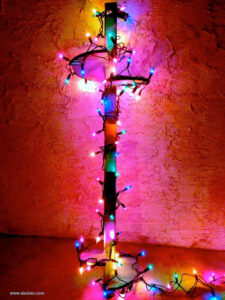 'Twas the night before Christmas, when in ran a mouse,
Followed by an opossum, all over the house!
The tree had been erected by the chimney with care,
In hopes that St. Nicholas soon would be there.
The children were nestled all snug in their beds,
When a mouse and opossum ran over their heads.
Then into the room with a tree full of sap,
Up the trunk they did climb till it fell with a whap –
I sprang from the bed to see what was the matter,
And found our dear tree all broken and tattered.
I knew to save Christmas, I had to be quick,
So I grabbed some supplies, some twine and a brick.
But nothing would hold that tree full of lights;
It needed something stronger to reach its great heights.
It hit me just then, so obvious, you see;
What we needed were helicals to hold up that tree.
Being an installer has its perks,
But installing those helicals did not feel like work.
Our tree was back up in less than a flash;
Good timing, too, 'cause we had to dash.
For Santa had arrived upon our roof,
With the prancing and pawing of each little hoof.
As I drew in my head, and was turning around,
Down the chimney St. Nicholas came with a bound.
I watched as he took stock of our tree;
Without saying a word, he looked straight at me.
I knew in that moment, we had the same thought:
It was those helical anchors that held it so taut.
He spoke not a word, but went straight to his work,
And filled all the stockings; then turned with a jerk,
And laying his finger aside of his nose
And giving a nod, up the chimney he rose.
He sprung to his sleigh, to his team gave a whistle,
And away they all flew, like the down of a thistle.
But I heard him exclaim, as he drove out of sight –
"Some things are better left to helicals, so you can sleep tight!"
From all of us at DANBRO Distributors, we wish you a holly, jolly, helical holiday and a peaceful and prosperous new year!