According to their website, Covanta Holding Corporation is a private energy-from-waste and industrial waste management services company headquartered in Morristown, NJ. Most of their revenue comes from operating power plants that burn trash as fuel. Covanta charges a fee for waste disposal, sells electricity produced in the process, and recovers metal for recycling.
Click here for Covanta website.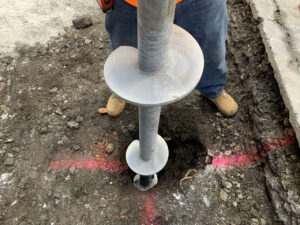 The recent construction of a Lime Slaker building at the Covanta "trash to steam" electric generation plant in Chester, PA, required foundation support for new equipment in the building. Lime Slaker is a compact, self-contained slaker and feeder package with a simple, straightforward, on-off control and is ideal for the "trash to steam" process at Covanta's Chester plant.
Danbro (and our installers) have a long history working on public/private utility and energy projects. Clients include PSE&G, CON EDISON, Verizon, PECO, Delmarva Power, National Grid, Brookhaven National Labs, Kinder Morgan, Eversource, and Covanta. Busy, crowded, heavily regulated nuclear power plants, gas, solar, and electric companies, and oil refineries, need to remain operational while expanding capacity and making capital improvements. Multiple municipal water and sewer utilities have used helicals to overcome site challenges. In addition to municipalities throughout the Northeast and mid-Atlantic states, we have done work for virtually every state in our territory along with various authorities, the federal government, and private companies like Covanta. Click here to link to numerous public and private utility projects.
The Covanta project serves as a microcosm for all the factors which make helicals a good fit for tight utility work. Access, mobilization, no-vibration, and the ability to handle both tension and compression loads simultaneously are critical elements at busy power plants and utilities. The ability to complete this work in a fully operational, 24/7 power plant made the decision to use helicals a no-brainer. The trash and waste deliveries, the source of electric generation, needed to continue to flow unabated and construction needed to accommodate that end. Dodging deliveries and avoiding obstacles, such as manhole covers, were par for the course during this installation! Accordingly, the flexibility of quick and easy mobilizations and demobilizations was a huge factor.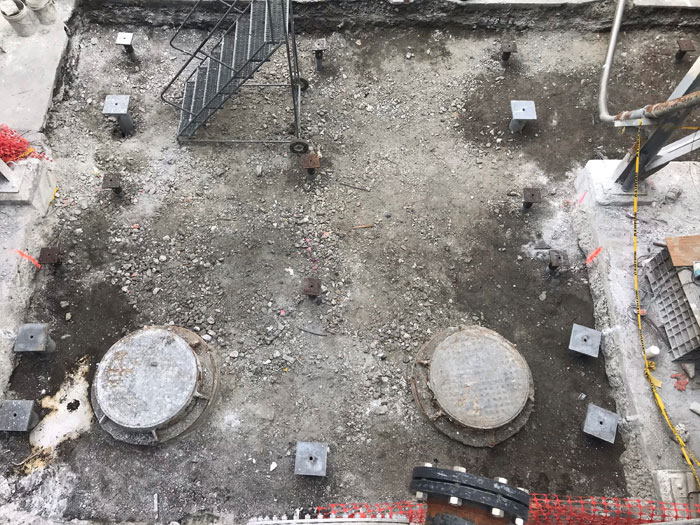 According to their Geotech, Schnabel Engineering, the Covanta trash to steam Electric Plant required a deep foundation to compensate for weak soils while supporting varying equipment loads for concrete pads. Danbro provided complete "design to build" construction services from concept to completion, including pile design by Gencorelli Engineering, budget pricing, and construction. Loads varied throughout the building to accommodate different equipment. 7" pipe piles (.408 wall) were used to achieve the twenty-ton ultimate in compression and 3.5" pipe piles (.300 wall) to achieve the ten-ton capacity to support more lightly loaded equipment pads. The vibrating equipment also produce tension and lateral components, so the piles doubled as anchors to the tune of ten tons and five tons respectively. Lateral loads were 2.5 tons on the 7" piles and 1 ton on the 3.5" pipe. The average pile/anchor went 46' to achieve their capacity.
"We have done a lot of work over the years in energy facilities and with utilities," stated Danbro President Frank D'Angelo. "We used our extensive expertise and experience to provide Covanta with a design build solution from concept to construction. Danbro and our installer network continue to be a major player when it comes to this type of work," he concluded.