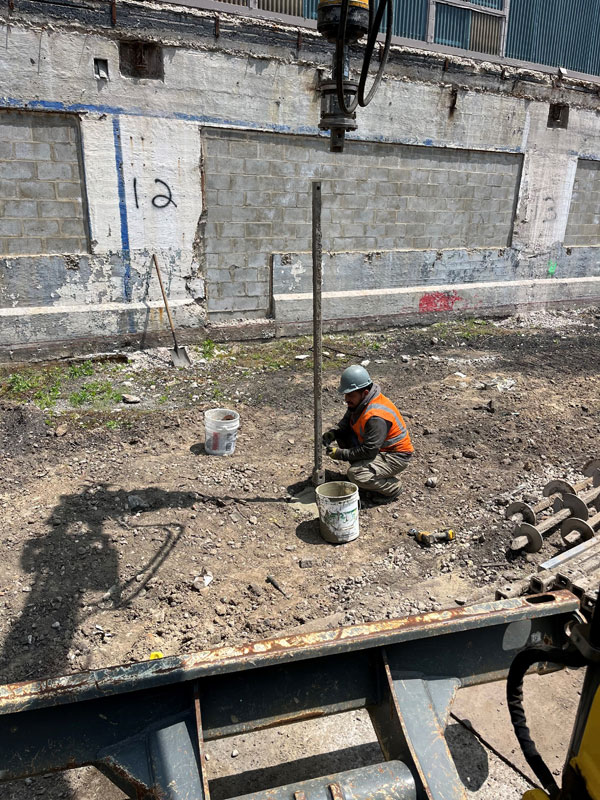 In addition to the overall acceptance of helicals in general, one of the big changes in the helical pier world over the years has been the growth of the large diameter helical market.  Historically, helical anchors in the telecom and power sectors and residential underpinning pigeon-holed helicals as a welcomed innovation, but for light loads.  Our supplier, IDEAL, has been the leader in expanding the use and acceptance of large diameter helical piles.  It was a logical product line expansion as the site conditions that favor the use of helicals also rear their ugly head on projects that require high-capacity piles and anchors.
Click for list of IDEAL small diameter helicals.
Click for list of IDEAL large diameter helical piles.
Before the advent of higher capacity helical piles, Bob Vicars, a Chance Distributor in Canada, invented the grouted helical micropile to provide for the use of helical piles when higher loads were required and when soil conditions raised lateral and buckling concerns.  Large diameter helicals have justifiably found their place among deep foundation products.  However, grouted helical micropiles still offer a viable option when site and soil conditions dictate their use.
Click here for information on Grouted Helical Micropiles.
Building 57 in the Navy Yard in Philadelphia, PA is a perfect illustration of how and when a grouted helical makes sense and cents.  Seasoned Danbro Installers, Iike Steve Vaspoli (Vaspoli Builders), have done a lot of work in the Navy Yard because it is a fill site on the Delaware River and deep foundations are required.  Site soil conditions consisted of '0 – 10' – urban fill, 10'- 38' – soft clay, 38'- 59'- sand, and, at 59', dense sand where the piles were terminated.  Possible contamination was also at issue in this military industrial site.  Grouted helicals eliminate concerns that soil conditions, such as these, raise for lateral and buckling and do so at an economical cost per foot.
Building 57 was being converted to commercial use by Rhodes Industries, who wanted to save the building's façade with a nod towards the structure's history in this former military industrial complex.  Sensitivity to the structural integrity of the existing façade required a low vibration, low impact foundation for the new building.  In addition, as mentioned, lateral concerns and suspect soils required that the steel be protected.  Forty-six 1¾" round-cornered square shaft with a 6" grout column were pulled down to 60' in five days to achieve the ultimate 80-kip compression and 16-kip tension loads.  This was confirmed by a load test which indicated only .227 deflection. The rough-edged grout columns increased the section modulus of the pile while also generating additional capacity from the friction.  It also protected the steel from corrosive soils while eliminating all lateral or buckling concerns.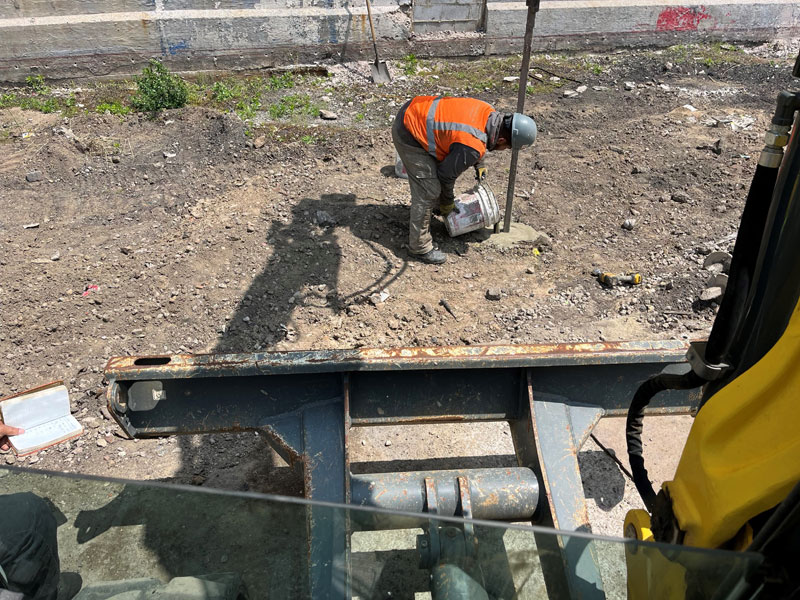 Click here for Navy Yard case history.
A grouted helical micropile is not a replacement for the increasingly popular large diameter helical piles.  Rather, it complements an already flexible product line which mitigates or eliminates site issues on challenging projects.  Building 57 is just another example of the versatility of helicals as a means to an end.  The grouted helical micropile is merely another tool in a crowded helical toolbox to placate cost-conscious project managers and owners while satisfying cautious specifying professionals.