A brief overview of the origins, philosophy, and business practices of one of the original, most well-established, helical pile distributors in the U.S.:
History
Danbro Distributors is an offshoot of D'Angelo Brothers, Inc., a 117-year-old, fifth generation, family−owned−and−operated foundation and excavation contractor in Philadelphia, Pennsylvania. Before forming Danbro twenty-five years ago, D'Angelo Brothers was a customer of the CHANCE® brand of helical piers and anchors which they used on their own projects. Impressed with the versatility of helicals, they created a company to sell them to like-minded contractor partners who share the family's competence and work ethic.
Product Line
IDEAL Foundation Products manufactures ICC-ES evaluated helicals, made with 98% recycled American 80 KSI steel and integral forged couplings. The line features a more traditional small diameter square shaft (1.5" and 1.75" – up to 70 kips) or round pipe (2 7/8" to 5.5" OD – up to 235 kips). These piles can also be grouted to achieve higher loads, increase lateral capacity, eliminate buckling concerns, or protect the steel. In addition, IDEAL manufactures large diameter piles up to 20" OD with up to 500 tons of capacity. Click here to see IDEAL Foundation Products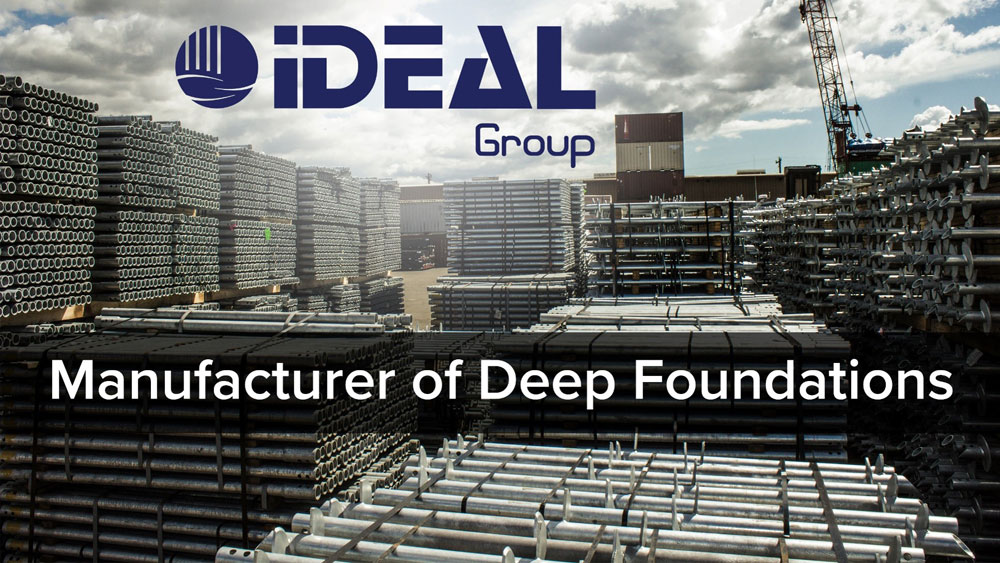 Territory
Danbro represents IDEAL® Foundation Systems in New York, New Jersey, Pennsylvania, Connecticut, Rhode Island, Massachusetts, New Hampshire, Vermont, Maine, Delaware, Maryland, Virginia, West Virginia, and Washington, D.C. The Northeast and MidAtlantic States are among the most densely populated states in the country. representing 24% of the population. The area encompasses four of the largest metro areas in the country: Boston, New York, Philadelphia, and Baltimore/Washington (and their surrounding suburbs). The infrastructure is old, in constant need of upgrade/repair, and a very challenging arena in which to work.
Site Challenges
We encounter every site challenge imaginable: access, mobilization, no-vibration, noise restrictions, strict codes, and environmental restrictions. We deal with varying soil conditions, such as rock, sand, wetlands, urban fill, and a multitude of water environments.
Installation Network
We stay close to our installers, helping them during the bidding process, sharing our experience from similar projects, and ready to lend assistance on demanding projects. Combined, our installer network has more than 558 years of experience putting piles in the ground. Multiple certifications and many hours of training in the field ensure that our installers are among the best in the business.
Applications
Earth Retention: Anchors; Tiebacks; Tiedowns; Slope Stabilization; Soldier Piles; Sheeting and Shoring. Click here to see Earth Retention Projects.
Compression: New Construction; Additions; Retrofits; Additional Levels; Slabs/Pads; House Raising; Elevators; Pools; Solar Fields; Modular Buildings; Pipelines; Foundation Repair/Replacement; Increased Capacity. Click here to see New Construction Projects.
Underpinning: Historic Preservation; Environmental Remediation; House Raising; Slab Stabilization; Column or Foundation Stabilization; Increased Capacity. Click here to see Underpinning Projects.
Walkways: Boardwalks; Decks; Ramps. Click here to see Boardwalk Projects.
Summary
Danbro Distributors has the background and experience to deliver the know-how, service, and support to complement the great products we sell. When site conditions or environmental concerns rule out or complicate the use of more traditional foundation systems, you can rely on Danbro and our talented, experienced installer network to rise to the occasion and find a solution!