At Danbro, our mottos convey our simple truth to our installers and would-be customers. "The Danbro Difference" is our commitment to provide service and support to our installing partners to help them win jobs and complete them successfully.  "The IDEAL Advantage" reflects a similar commitment to customer satisfaction by our manufacturing partner, the IDEAL Group.
We have represented two manufacturers in our 25+ years as helical distributors and have been fortunate with both relationships. A superior product with all the necessary certifications and evaluation (ICC, ISO 9001 etc.) allays professional and owner concerns. The IDEAL Group brings some additional advantages to the table as it relates to high-capacity product ratings and a large, diverse inventory: helicals, large diameter helical piles, grouted helical micropiles, and STELCOR Drilled-in Displacement micropiles.  In addition, they are customer/project-focused and nimble enough to produce special orders that help our Installers compete, as illustrated by a couple of recent jobs.
A five-story residential apartment building on the water in Quincy, MA required a deep foundation for the WOH soils to 40 feet. An 8" helical pipe pile was overkill for the 80-kip load, but necessary for lateral in the poor soils. However, the cost was prohibitive, and our Installer was in danger of losing the job. Danbro suggested a 3 ½" pipe pile with a 10" grout column to handle the capacity while alleviating lateral concerns. Since it was their first Grouted Helical Micropile, a load test was required.  Read the Case History here.  Danbro's Field Support Specialist, Nick Gill, provided on-site training and support to the installer.  IDEAL chipped in by custom-fabricating the leads and extensions with the displacement plates welded directly to the pipe. This eliminated a lot of production down-time and speeded the installation, further enhancing the economic viability of this pile system. Read the Case History here.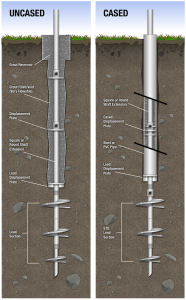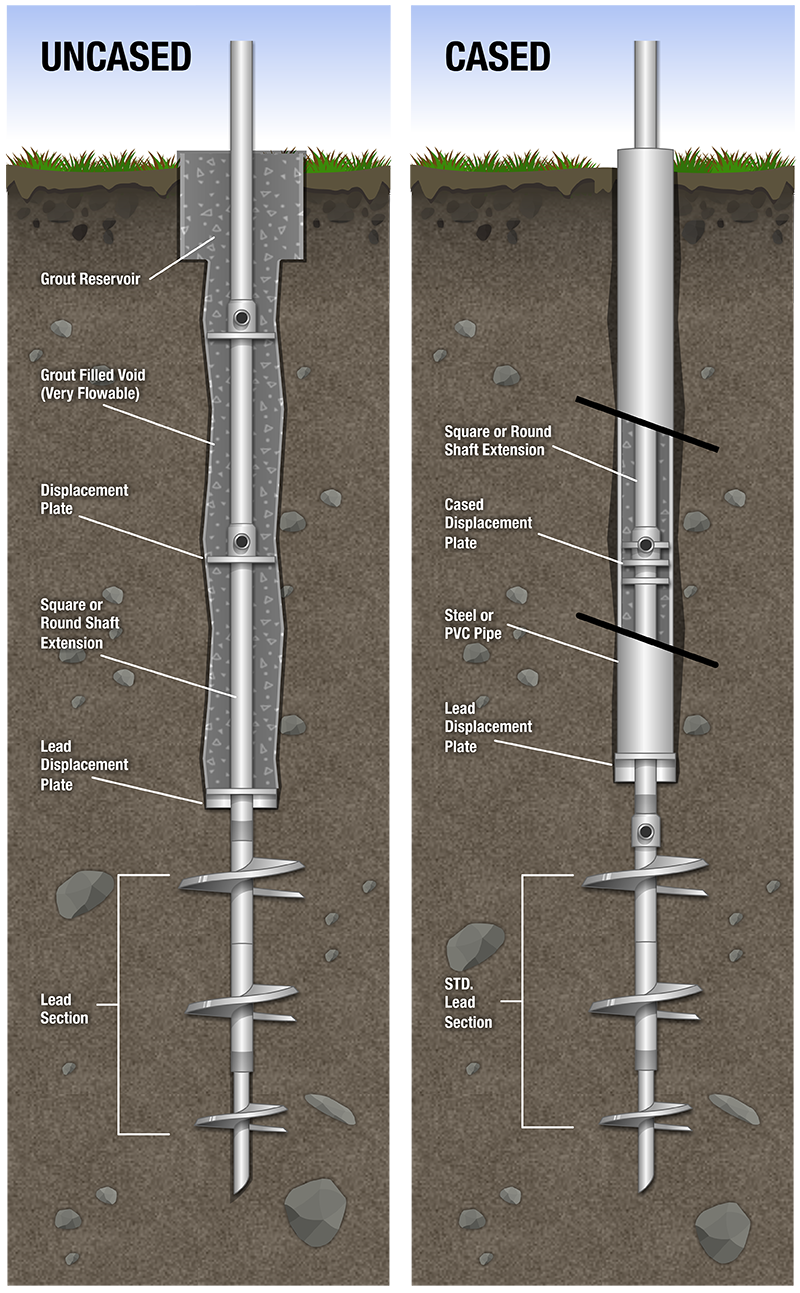 Manufacturer L.L. Bean of Maine was retrofitting a former warehouse to convert it into their new corporate headquarters. H-piles were specified both inside and outside the structure. but were problematic in the interior due to vibration and overhead concerns.  Helicals were deemed a better alternative, but there were some concerns because of varying soil conditions overlaying glacier till.  IDEAL value-engineered the job and custom fabricated a 5.5" pipe piles with J-teeth welded to the base of the lead section to help cut through some dense soil layers and ultimately bite into the till layer.  The installation contractor had extensive experience with helicals and soil conditions in New England and upstate New York.  They immediately recognized an innovation that worked for them and have since used this IDEAL "specialty" pile on two other occasions. Read the Case History here.
"I think one of the things that definitely sets us apart and that all of our customers benefit from, is that, despite our exponential growth, we have remained a family business," explained Glenn Stroyer of the IDEAL Group.  "With the family dynamic comes an energy, a level of buy-in, and dedication, that is hard to come by," he continued.  "It doesn't matter how big the order is.  If a job isn't going right, somebody will jump in a car and drive to NYC or take the next flight out to Texas.  If production is being hit hard, we're happy to change out of our office clothes after work, grab our welding masks and a few cases of Redbull, and do a night shift. We don't have a corporate hierarchy; we are all in it together!" Glenn concluded.
Contracting is a tough, competitive business.  Anything you can do to get an edge and help the owner, GC, or developer succeed will win friends, influence professionals, and establish yourself as a "can do/go to" contractor.  These two jobs are examples of how Danbro, and our supply partner, IDEAL Foundation Products, go the extra mile to help our customers win projects and successfully complete them, with outside-the-box thinking and technical innovation.
_______________________________________________________________________
DANBRO DISTRIBUTORS
3700 South 26th Street, Philadelphia PA 19145, USA • Phone: +1 (215) 271-7700
Frank D'Angelo • fgdangelo@danbro.com